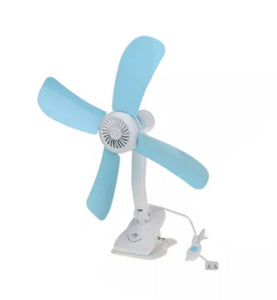 TopMix
Attached Fan
Regular price
€12,98
Sale price
€17,98
Unit price
per
Tax included.
Shipping
calculated at checkout.
Attached Fan
Indispensable in every home and office. Thanks to the special clip, you can attach it to your desk or windowsill, and thanks to the stand, you can attach it to the table, cabinet, floor, etc. The wide base ensures stability and ease of use

The fan blades are long, so the fan is extremely efficient - it cools perfectly and ensures proper air circulation. The fan can be set in almost any position - it can rotate 360 degrees and you can adjust its tilt up to 180 degrees!

The fan is quiet, very efficient, blows strong air, providing great relief and refreshment in hot weather. It requires no tools to install - simply attach to a stand or directly onto a tabletop/windowsill etc.

Indispensable on hot days, simply plug the unit into a wall socket and turn on the fan with the switch on the cord for a pleasant breeze.

The fan has an ON/OFF switch so you can turn it off without pulling the cord from the wall outlet.

The fan has a tilt adjustment - you can set it at the right angle and adjust the air blowing in the direction of your choice. In addition, it can rotate 360 degrees - Adjust the fan to the desired position and enjoy the cold weather!
SPECIFICATION:
Rotation: 360

Tilt: 180

Switch: ON OFF

Dimensions: 48x16 cm

Cable length: 150 cm
---